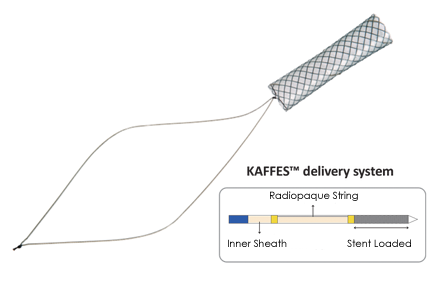 Kaffes™ Stent
| | |
| --- | --- |
| Category: Interventional Biliary Stents | |
To treat anastomic strictures after liver transplantation
Indication:
Anastomic strictures after liver transplantation
Details / Features
Characteristic waist at mid-portion of the stent: Waist shape of the stent allows strong radial force and preventing migration
Short length of stent: Using a short stent across the stricture prevents to impart pressure over a large area of normal duct by reducing the potential risk of necrosis and fibrosis
Long platinum radio-paqued retrieval string: The long platinum string helps easy removal from the high up location of CBD
Covered part can prevent bile leak through transluminal track between stomach and left hepatic duct.
Uncovered part can prevent migration and cholangitis without obstructing side branches of hepatic ducts.
Flared end is located out of the stomach wall preventing migration into hepatic duct
Radiopaque Markers: Three (3) at both ends and two (2) in the middle
Key Resources
Clinical Reference
A randomized trial of a fully covered self-expandable metallic stent versus plastic stents in anastomotic biliary strictures after liver transplantation
by Arthur Kaffes et al [Therap Adv Gastroenterol. 2014 Mar;7(2):64-71]

Fully covered self-expandable metal stents for treatment of benign biliary strictures
by Arthur Kaffes et al [Gastrointest Endosc. 2013 July;78(1):13-21]

Placement of removable metal biliary stent in post-orthotopic liver transplantation anastomotic stricture
by Hoi-Poh Tee et al [World J Gastroenterol. 2010 Jul 28;16(28):3597-600]

.