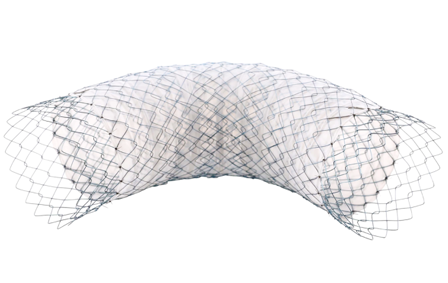 Colonic Comvi™ Stent
Irregular cell sizes allow for segmental radial force so side branches of pancreatic duct are not compressed, thus reducing stent related pancreatitis or pancreatic sepsis. Both flared ends reduce risk of migration. Fully PTFE body cover and silicone flare cover along with a removal string at proximal end allow for easy removal. Radiopaque markers: 3 (three) each end & 2 (two) in the middle.
Indication
Malignant colorectal obstruction
Details / Features
Triple layered construction: Biocompatible PTFE membrane tube is held between inner and outer mesh
Unfixed cell structure enables stent to conform to tortuous anatomy
PTFE membrane prevents the risk of tissue invasion
Outer wire mesh prevents the risk of migration
Minimum foreshortening for accurate stent placement
Radiopaque marker: 4(four) at both covered part ends
Key Resources
Clinical Reference
Successful Palliation of a Malignant Cologastric Fistula with a Covered Self-Expanding Metal Stent
by Mathilde Therese Winther Breitenbauch et al [Clin Endosc. 2015 Nov;48(6):576-8]

Comparison of efficacies between stents for malignant colorectal obstruction: a randomized, prospective study
by Semi Park, MD et al [Gastrointest Endosc. 2010 Aug;72(2):304-10]

Comparison of a Newly Designed Double-Layered Combination Covered Stent and D-Weave Uncovered Stent for Decompression of Obstructive Colorectal Cancer: A Prospective Multicenter Study
by Chang Mo Moon, M.D. et al [Dis Colon Rectum. 2010 Aug;53(8):1190-6]
.